Black Hair Transplant
What is an Afro Hair Transplant?
An Afro hair transplant is transferring follicular units from a healthy donor area at the back of the head to the area suffering from hair loss. The hair follicles at the back of the head are genetically immune from Dihydrotesterone DHT (the hormone that causes hair loss), thus, they are not subject to the same processes that cause the hair at the top of the head to fall. We can therefore say that the donor follicles are resistant to hair loss, meaning that in the vast majority of cases an afro hair transplant constitutes a permanent solution for hair loss.
A Unique Process
Why is Afro Hair Transplant a Unique Process?
African hair can require extra care and attention, but in expert hands, the results can be very rewarding. However, SHIFT has always taken pride in providing high-quality, personalised services which ensure the best results for patients. The SHIFT team has extensive experience in hair transplantation and is skilled at working with a wide variety of hair types.

One of the team's most important areas of specialisation is in working with African hair, which is something which sets SHIFT apart from other hair transplant clinics in Turkey.
The Techniques
The Techniques of Afro Hair Transplant Operation:
The main afro hair transplant technique that gives a nice result is the FUE with its derivative; Sapphire FUE, Gold FUE, Micro FUE, Perkutan (Percutaneous FUE), Hyper FUE, Soft FUE, etc.
FUE
FUE is the common technique for afro hair transplant nowadays, as it allows for transplantation of the maximum number of grafts. FUE is an excellent all-around technique as it is suitable for the majority of patients. FUE involves extracting individual grafts from the donor area before opening microchannels in the transplanted area and placing the grafts in these channels. The advantage of extracting the grafts individually is that this leaves minimal scarring and leads to a swift recovery time.
How do I Know the Best Afro Hair Transplant Technique for me?
SHIFT provides all afro hair transplant techniques with high efficiency and experienced staff. We recommend the technique we see the best for your case depending on what will give you the best end result.

Some techniques are getting marketed as the best for everybody or the coolest technique to have, but the situation is different at SHIFT as we are result-oriented.

The best course of treatment will depend on you and some factors such as your age, the extent of your hair loss, the number of grafts to be transplanted, your hair and skin, etc. SHIFT always works with you to create the best results in the best conditions. Your experience in a wide range of techniques means that they are perfectly placed to offer each patient the course of treatment that is most suitable for them.

In patients with looser curls, it can be easier to transplant hair, but special care must still be taken. In particular, it is normally best to use the FUE or FUT Techniques when working with African hair, because the curved nature of African hair roots means that they can easily be damaged during the DHI (which involves placing the grafts into a pen for implantation).
A Different Hair Structure
How does African Hair Differ from European or Asian Hair?
African hair is different from European or Asian hair in that the roots also tend to be curly, which can make graft extraction difficult. African hair also tends to be less dense in terms of the number of strands than European or Asian hair, with people of African heritage normally having fewer individual hairs on their heads than European or Asian people. However, the curly texture of African hair means that it gives an impression of thickness and fullness.

It is interesting to note that there are differences between categories of African hair, as well as between African, European and Asian hair in general. People of East African heritage are likely to have looser curls than those of West African/Caribbean heritage, and the roots of their hair are likely to be straighter. People of mixed heritage also tend to have looser hair.
Curly Hair Transplant
The Impact of Curly Hair on a Hair Transplant
Perhaps the biggest challenge when transplanting African hair is graft extraction. Because the roots are curvy, they are much more difficult to extract safely, and it can be necessary to use tools with a wider diameter in order to extract the grafts without causing damage.

In patients with extremely tight curls, it can sometimes be the case that any type of extraction would risk damaging either the grafts or the skin in the surrounding area. In this case, the team would advise patients that it would be best not to continue the operation.

It is normally possible to establish whether the patient would be suitable based on the photos sent during the initial consultation by WhatsApp or email. Under no circumstances would the team continue a procedure that they felt was not helpful for the patient.

It is important to take this into consideration in order to create a natural-looking result which is well-suited to the heritage and personal characteristics of each patient.

Finally, it is important to note that as well as the difference in hair texture, people of African heritage normally have different hairlines to those of European descent, with African hairlines normally being straighter.
Afro Hair Transplant in Turkey
Afro hair transplant is a huge thing in Turkey, and such procedures have been routinely performed since well before hair transplants became mainstream in the US and Europe. This means that the level of expertise in Turkey is very good. Investment in cutting-edge technology and excellent hospitals have also meant that Turkey is miles ahead of other countries in this area, as has Turkey's focus on embracing innovation.
Afro Hair Transplant at SHIFT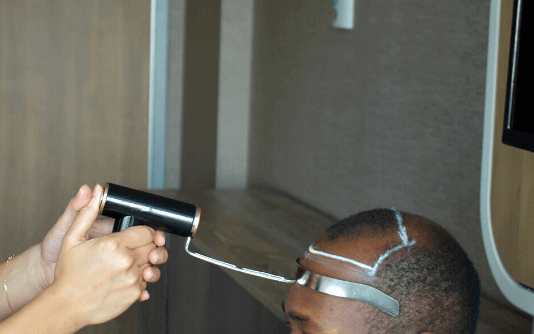 SHIFT has extensive experience in working with Afro hair, offering it the care and devotion that will yield the beautiful results that it deserves. SHIFT is always mindful of the needs of every patient, and this personalised approach produces stunning results when working with patients with Afro hair.