Hair loss is often perceived as a primarily male condition, yet women can also experience this for a variety of different reasons. Hair loss is something which can have a profound negative impact on a woman's self-esteem, but a female hair transplant can provide a permanent solution in many cases.

Female patients at SHIFT can feel confident in receiving first-class treatment in the hands of a highly experienced team which places comfort at the heart of every patient experience.
Female Hair Loss Reasons
What causes hair loss in females?
The main cause of hair loss in women, as in men, is inherited androgenetic alopecia. In women, this is also known as 'female pattern hair loss, and while this condition is genetic, it tends to manifest itself differently in men and women. Female pattern hair loss is generally characterised by all-over thinning, whereas male pattern hair loss is more localised to a specific bald area or areas of the head. Both male and female pattern hair loss can often be successfully treated by hair transplantation, a treatment which offers a permanent solution to this type of hair loss.

Aside from female pattern hair loss, there are a variety of other factors which can also occasion hair loss or hair thinning in women. These include underlying health conditions such as hypo- or hyperthyroidism, polycystic ovary syndrome, certain skin conditions, illness and also the side effects of taking heavy medication or receiving intense medical treatments such as chemotherapy. Certain lifestyle factors, such as exhaustion, poor nutrition and vitamin and iron deficiency, can also have a negative impact on hair health, as can psychological trauma.

In some cases, hair loss in women may be temporary and resolve itself over the course of time. This is particularly true of hair loss that is linked to a specific physically or psychologically traumatic event such as pregnancy, childbirth, surgery or a difficult life event. In other cases, hair loss can be at least partially remedied by making lifestyle changes or addressing the underlying causes of hair loss. However, in situations where such hair loss is permanent, a hair transplant can help in improving the overall appearance of the hair, and in doing so can boost the confidence of female patients. Some women also choose to have a hair transplant if they wish to lower their hairline for cosmetic purposes.
The Techniques
Women Hair Transplant Techniques
Firstly, most women are understandably reluctant to shave their hair, which means that in most cases they will be better candidates for Manual or DHI, rather than FUE techniques. Although FUE is the most widely used treatment method, because it enables transplantation of the maximum number of grafts, it normally requires a more shave. DHI, on the other hand, is excellent for increasing density without disturbing the original hairs in the transplanted area, which means that it is a very good solution for women with thinning hair.

With the DHI technique, it is normally possible to shave only a small part of the hair at the back of a female patient's head, which can be covered if a woman has reasonably long hair. The donor grafts can then be extracted from this area, and while coverage will be less dense once the remaining hairs have grown back again, the better overall coverage across the scalp should help to offset this.
FUE
FUE is the common technique for women hair transplant nowadays, as it allows for transplantation of the maximum number of grafts. FUE is an excellent all-around technique as it is suitable for the majority of patients. FUE involves extracting individual grafts from the donor area before opening microchannels in the transplanted area and placing the grafts in these channels. The advantage of extracting the grafts individually is that this leaves minimal scarring and leads to a swift recovery time.
DHI
DHI is a good technique for creating density in smaller areas, such as the front hairline, and is particularly useful for those seeking a no-shave transplant. It involves using an implanter pen to open the channels and position the extracted grafts in one movement. DHI has a faster recovery time than 'Classic' FUE but it can only be used for smaller quantities of grafts as it is more time-consuming.
How do I Know the Best Women Hair Transplant Technique for me?
SHIFT provides all hair transplant techniques with high efficiency and experienced staff. We recommend the technique we see the best for your case depending on what will give you the best end result.

Some techniques are getting marketed as the best for everybody or the coolest technique to have, but the situation is different at SHIFT as we are result-oriented.

The best course of treatment will depend on the patient and factors such as their age, the extent of his hair loss, the number of grafts to be transplanted, his hair and skin type and more. SHIFT always works with the patient to create the best results in the best conditions. Their experience in a wide range of techniques means that they are perfectly placed to offer each patient the course of treatment that is most suitable for them.
Women Hair Transplant in Turkey
Women hair transplant is a huge thing in Turkey, and such procedures have been routinely performed since well before women hair transplant became mainstream in the US and Europe. This means that the level of expertise in Turkey is very good. Investment in cutting-edge technology and excellent hospitals have also meant that Turkey is miles ahead of other countries in this area, as has Turkey's focus on embracing innovation.
Women Hair Transplant at SHIFT
SHIFT is proud to adhere to the highest standards in the industry in terms of both clinical excellence and patient satisfaction. SHIFT has extensive experience in performing a wide variety of hair transplant techniques, and this versatile approach means that SHIFT is excellently equipped to create the very best results for every patient.
Results
Women Hair Transplant Before and After
The Growth Timeline of Hair Transplant for Women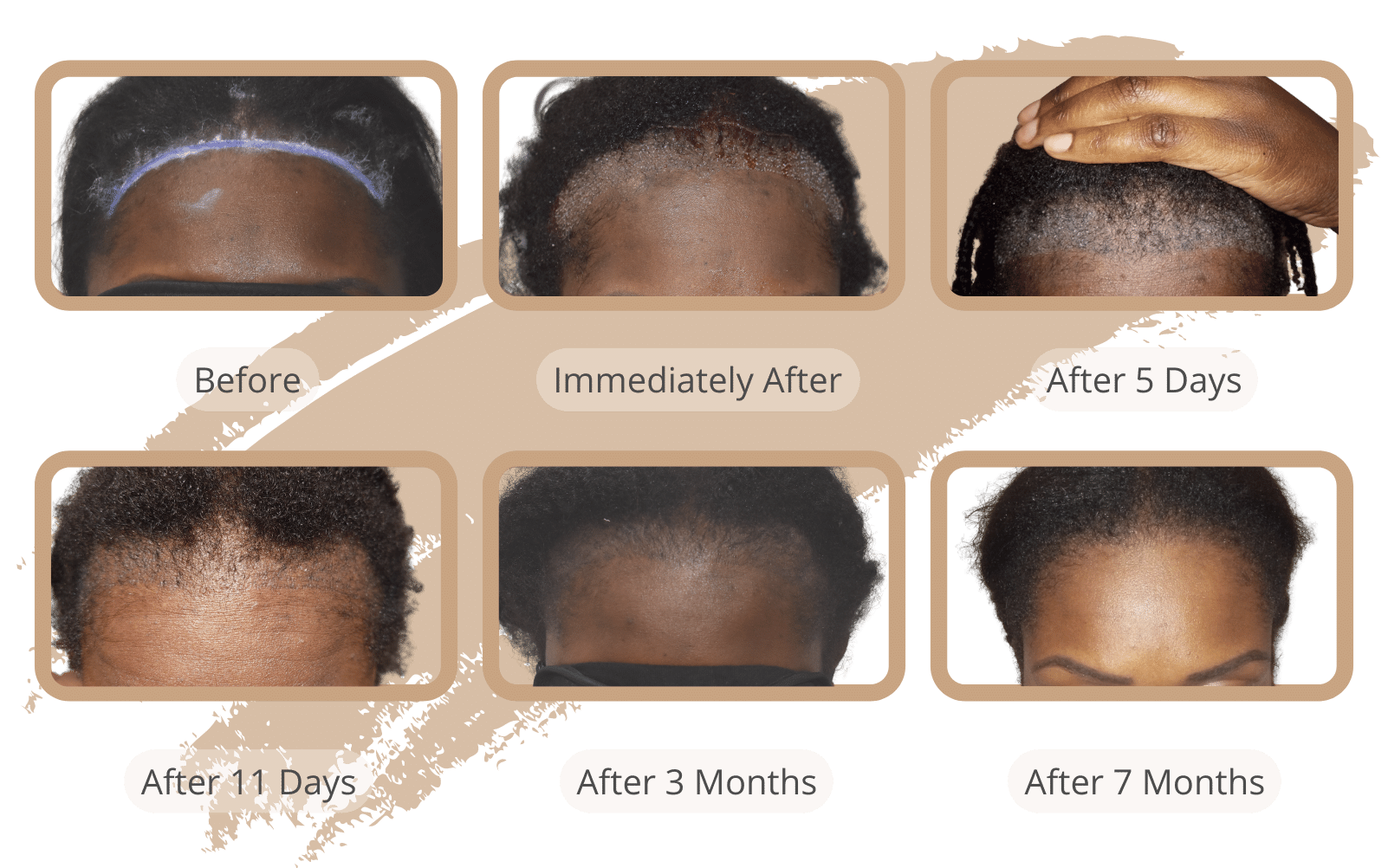 Consultation
Women Hair Transplant Online Assessment
✓ Completely Free
✓ Non-binding
Fill in the form and attach the photos as explained below.
One of our consultants will reply by email (usually within 24-48 working hours).
Fields marked with an asterisk (*) are mandatory.
Please wait until you see a "Thank you" message.
This might take a few minutes depending on the images' size and internet speed.
Taking forever? Hit "SEND" again or try the simplified form and we contact you for further assistance.