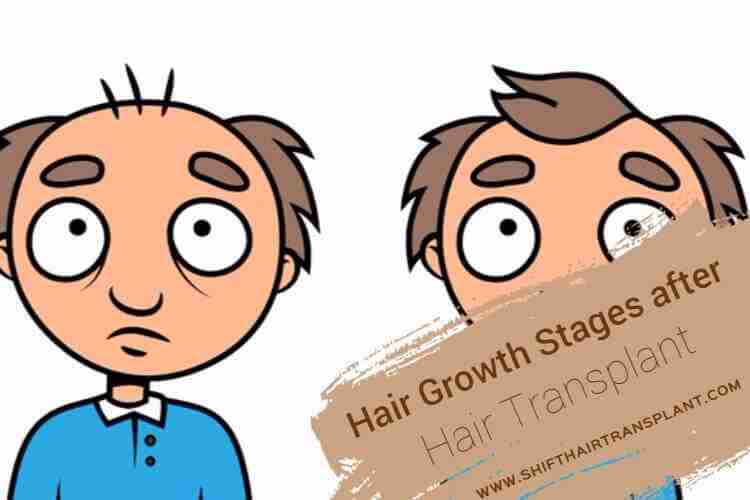 Hair Growth Stages
What are the Hair Growth Stages?
Hair Growth Stages – It is sad but true that most men and women only think about preventing hair loss once they have lost a considerable amount already. A hair transplant can be a natural and lasting treatment for a range of hair loss problems.
In many ways, the stages of regrowth after a hair transplant are similar to the stages of general hair growth. This is mainly because the donor's hair is extracted from another spot on the scalp and then transplanted to the region where the hair loss is experienced.
Patients will generally experience four hair growth stages after a successful hair transplant in Turkey. Hair Growth Stages
Telogen
In the first stage patients can observe hair shed by the transplanted follicles. The shedding usually occurs during the first two weeks after the operation. It can mainly be attributed to the stress that is experienced by the follicles during the transplantation or grafting process. After hair strands have fallen out, they typically stay at the Telogen state for around three to four months. Hair Growth Stages
Anagen
This is the next stage, when hair is produced by the transplanted follicles. The rate of hair growth differs from one individual to another, although a growth of about half an inch should be expected every month. Generally, at the start of this second stage a qualified hair transplant specialist or cosmetic surgeon at a reputable hair restoration centre such as SHIFT Hair Transplant can suggest whether further grafting is needed to offer the full head of hair that is desired. As with the other natural hair strands still left on the head, the transplanted follicles stay in the growth stage for around two to six years. Hair Growth Stages
Catagen
This is the third phase following a hair transplant in Turkey and is actually a transition stage. Patients will experience growth stopping and see an entry into a dormant stage of hair growth. This is the shortest of the stages and can last for over weeks. Hair Growth Stages
Telogen
This is the final stage after the hair transplant procedure. Although the name is similar to the first stage, this is actually slightly different. Whereas the first stage lasts for around two weeks, the last stage sees hair staying in the phase for about three to four months before being shed. However, new hair growth soon follows. As cosmetic surgeons and experts at top hair centres like SHIFT Hair Transplant say, just 10% of hair is in the second telogen phase at any specific time. Hair Growth Stages