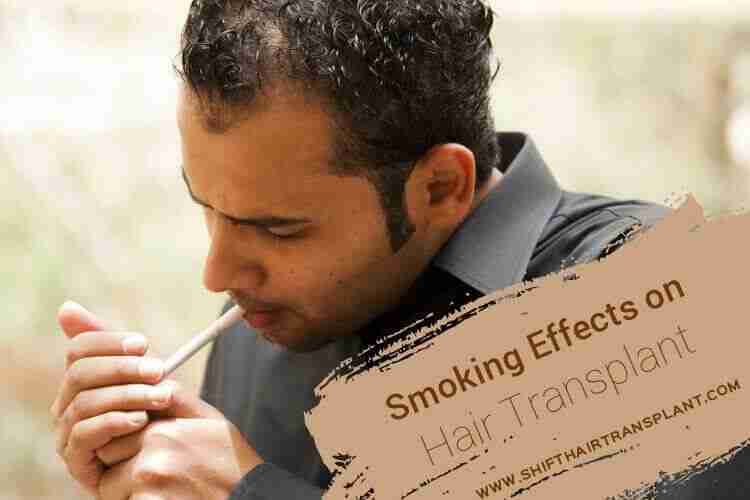 Hair Transplant Smoking Effects
How Smoking Affects Hair Transplant?
Hair Transplant Smoking Effects – In reputed hair restoration facilities such as SHIFT Hair Transplant, there are clear directives that patients need to abide by for a successful hair transplant.
Abstinence from smoking tops the list. Patients need to stop smoking for 2 weeks before the surgery and even for a couple of weeks or more after the process. Find out about the effects of smoking on the hair transplant, which leads to its ban during and after the surgery. Smoking Effects on Hair Transplant
Lack of oxygenation
Various studies have been conducted in order to establish a connection between hair loss and smoking. A 2007 study has shown that intense smoking, and having anywhere between 1 and 20 cigarettes every day, can cause moderate to severe hair loss in males who are advancing in age. Although the exact association between hair loss and smoking could not be found, it is supposed that smoking affects the circulation of blood – which results in the hair follicles suffering from a lack of oxygen and being shed as a result. Smoking Effects on Hair Transplant
Construction of blood vessels
The nicotine present in cigarettes is found to constrict the blood vessels in the scalp, thus impairing their capacity to supply blood. Anything impacting blood circulation in the scalp can reduce the pace of healing. Smoking after hair transplant in Turkey can affect the supply of blood to the scalp, and make the freshly transplanted hair follicles shrivel up and die even before starting to grow at the site of implantation.
Promotes Androgenic Alopecia
Androgenic Alopecia is a common hair loss condition that affects both sexes. It is also referred to as male-pattern baldness in men and is characterized by the loss of hair in a well-defined pattern starting over both temples. In the course of time, the hairline recedes and looks like the letter "M". There is thinning of hair close to the top section of the head, which often progresses to complete or partial baldness.
Leads to brittle hair
In smokers, the scalp receives less blood, and consequently less oxygen and essential nutrients that are necessary for the survival and growth of hair. An unhealthy scalp leads to bad hair growth. The top hair layers get damaged and turn too brittle, which causes them to break prematurely. Hair Transplant Smoking Effects
Leads to bleeding risks
When a patient smokes before and after a hair transplant surgery, the follicles are weakened and many of them never grow again. Smoking can lead to bleeding while the surgery is ongoing, which is attributed to nicotine presence in the body.